TOURDATES - TICKET INFORMATION - CONTACT

"When we work, when we live, when we love.
Amidst our daily pleasures and pains:
the search for The Grail is universal and of every time."

The arena invites you to a gripping tale of love and laughter. Of jealousy, power and friendship. The music is your guide on this pilgrimage through the deep-end of society: the garbage dump.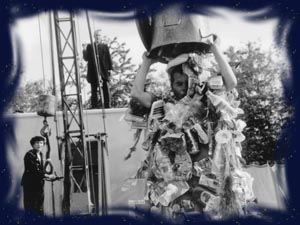 Meet the mythical beings with distinct human features. Expect the unexpected. Prepare yourself for breathtaking acrobatics, mindswirling emotions and belly bursting laughter.
An enchanting, amazing and warming experience on the ground and in the air built around the ever grinding crane.


The Crane Driver: Christian Metzel
The Wandering Child: Vias Aboal
The Witch: Katrin Lachmund
The Inventor: Nacho Lopez
The Air Pixie: Anke Hein
The Severe Priest: Uli Weichel
The Boy: Paco Castellon
The 'Schoffie': Marian Kuin
The Garbage Man: Marrajo Royo
The Lady: Tanja Haupt
Direction: Hannes Leo Meier
TOURDATES - TICKET INFORMATION - CONTACT



design by Brothers in Art
www.brothersinart.com