TOURDATES - TICKET INFORMATION - CONTACT

For the opening everyone will remember, for the party talked about long after, for the reception with a difference: KRAN can work for you.
Custom-made theatre
Besides our big open air spectacles, we also produce custom-made theatre for every occasion. Our actors, acrobats and musicians will give an artistic interpretation of the event and fill the place with laughter and amazement.
Live music
Enlighten your event with the swinging music of Os Jarbanzos. From mohawk to mohair sweater: they get everybody moving with their special mix of rock and ethnic melodies.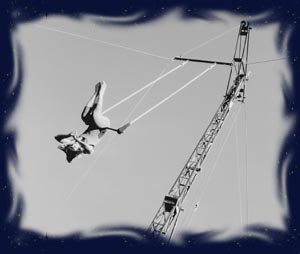 Open air spectacles
If you are organising a festival would like the whole KRAN company capture audiences one contact us about possibilities. We travel our own infrastructure;
- wooden tribune 25 m2 seating 200 people
- 3 Trucks with trailers, 4 campers, 3 cars 6 caravans
- tent: 10 x 4 x 2,5 m. with optional bar facility.
- light and music equipment
Requirements:
- water
- electricity 3 x 380 v. Euro 63
Technical facilities
Need a stand, bar tent or musical system? We rent out our technical equipment for your own purposes.
Contact us trought email or call Eva Panero (+)41 79 402 91 41.
TOURDATES - TICKET INFORMATION - CONTACT



design by Brothers in Art
www.brothersinart.com